IMMUSYNC™
Fights all infections augments immunity.
Sale price
₹ 397
Regular price
M.R.P: ₹
Unit price
₹
/
per
(Inclusive of all taxes)
100% Natural
No Harsh Ingredients
Ayurvedic Herb
Quality Check
Wildcrafted & Organic
View full details
Description
IMMUSYNC™ is an ayurvedic formulation developed by perfectly synchronizing the immunity-boosting powers of ancient herbs. An amalgamation of immuno-modulatory herbs like Guduchi, Ashwagandha, Turmeric, Tulsi, Amla, Haritaki, Bibhitaki, Ginger, and Neem, it infuses the body with a spectrum of antioxidants and vitamins which are crucial for a robust immune system. The concentrated active constituents of the above herbs in this medicine amplify the body's natural resistance to all types of infections.It busts stress, promotes good sleep, maintains gut health, and protects all vital organs such as lung, liver, kidney from inflammation, and provides strong support to maintain healthy immunity inside the body.
Ingredients
Guduchi
(Tinospora cordifolia)Ext – 100mg
Ashwagandha
(Withania somnifera) Ext – 100mg
Turmeric
(Curcuma longa)Ext – 100mg
Tulsi
(Ocimum sanctum)Ext – 50mg
Amla
(Embilica officinalis) Ext – 34mg
Haritaki
(Terminalia chebula) Ext – 33mg
Bibhitaki
(Terminalia bellerica)Ext – 33mg
Yastimadhu
(Glycyrrhiza glabra)Pw – 25mg
Pippali
(Piper longum)Pw – 25mg
Black pipper
(Piper nigrum)Pw – 25mg
Sunthi
(Zingiber officinale)Pw – 15mg
Neem
(Azadiracta indica)Ext – 10mg
HOW IT WORKS?
Mechanism of action
IMMUSYNC is effective in balancing the immune system of the body against any foreign attacks or internal stimulus to the immune system because of the collective immunity-boosting properties of the medicinal herbs used as ingredients in the formulation. Below are the mechanisms of how these herbs are acting on our immune system.
GUDUCHI: Guduchi (Tinospora cordifolia), also known as Giloy, is referred to as "Amrit" in Sanskrit, meaning "divine nectar." It is highly valued in Ayurveda for its detoxifying, rejuvenating, immune-boosting, and anti-rheumatic properties. Guduchi enhances the phagocytic activity of macrophages and production of reactive oxygen species (ROS) in human neutrophil cells(1). It also increases proinflammatory cytokines such as IL-1β, IL-6, TNF-α, granulocyte-monocyte-colony-stimulating factor (GM-CSF).
ASHWAGANDHA:Inflammation is a complex immunological process. The initial acute stage of inflammation is mediated through the activation of immune cells, the resultant inflammatory cytokines and intracellular pathways such as Nf-kB. Withanolides, the active constituent of Ashwagandha, inhibits NF-κB activation and block the expression of LPS- or TNFα-induced NF-κB-regulated inflammatory genes such as iNOS, COX-1, COX-2 and NO. The extract selectively induces type 1 immunity because it helps enhanced expression of T helper cells (Th1)- cytokine interferon (IFN-gamma) and interleukin (IL-2) while Th2 cytokine IL-4 declines moderately (2).
TURMERIC: Curcumin (20% curcumin in one IMMUSYNC tablet) is the active constituent of a Rasayan drug Turmeric and has high safety and low toxicity profile. Infections from viruses such as avian influenza, dengue, and coronavirus can lead to cytokine storms, producing a massive amount of pro-inflammatory cytokines. The collective action of these inflammatory mediators causes the destruction of tissues and cells in the lungs and other organs, and the clinical syndromes are extensive pulmonary edema, alveolar hemorrhage, ARDS, and multiple organ failures, etc. Evidence from preclinical studies demonstrates that it inhibits viral infection, alleviates the severity of lung injury through offsetting the cytokine storm, inhibits subsequent fibrosis, and increases survival rates (3).
TULSI:Tulsi is rich in Vitamin C and zinc. It has been studied that the extract of Tulsi leaves increases the T helper cells and natural killer cells activity and boosts the immune system. Active compounds such as Camphene, cineole, and eugenol present in Tulsi extract help to reduce cold and congestion in the chest. Ocimumosides A and B, present in Tulsi leaves, reduce stress and effectively boost the immunity, also balance the neurotransmitters serotonin and dopamine in the brain. It is also observed that it inhibits replication of Coronavirus supported with its immune-modulatory feature and ACE II blocking properties. Tulsinol (A, B, C, D, E, F, G) and dihydrodieuginol-B, present in leaves of Tulsi, also inhibit SARS Coronavirus Main Protease and Papain-like Protease (4).
SUNTHI:The active components of Ginger rhizome gingerols, shagaols, and paradols, etc., inhibit prostaglandin and leukotriene biosynthesis, inhibit cyclooxygenase and lipoxygenase activities, and inhibit the synthesis of pro-inflammatory cytokines such as IL-1, TNF-α, and IL-8 without any significant effect on IL-6 levels.
BLACK PEPPER:Black Pepper regulates the balance of the cytokines production of Th1, Th2, Th17, and Treg cells, reduces the accumulation of inflammatory cells, inhibits the expressions of pro-inflammatory cytokines (IL-4, IL-6, IL-1β, IL-17A) and TNF-α, increases INF-γ and IL-10 secretions in the respiratory tract, and increases macrophage activation and T and B cell proliferation.
HOW TO USE IT?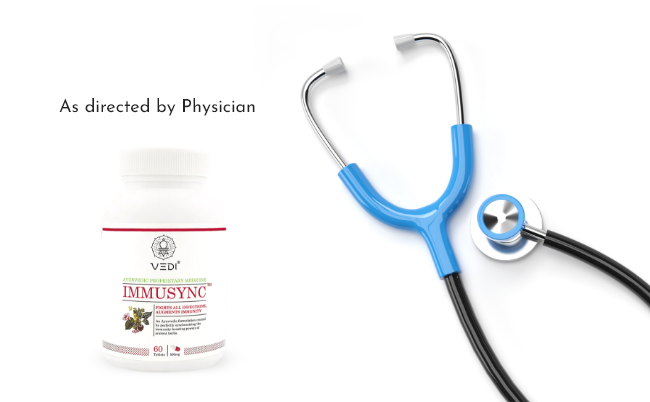 Dosage
One tablet twice a day after food or as directed by the physician.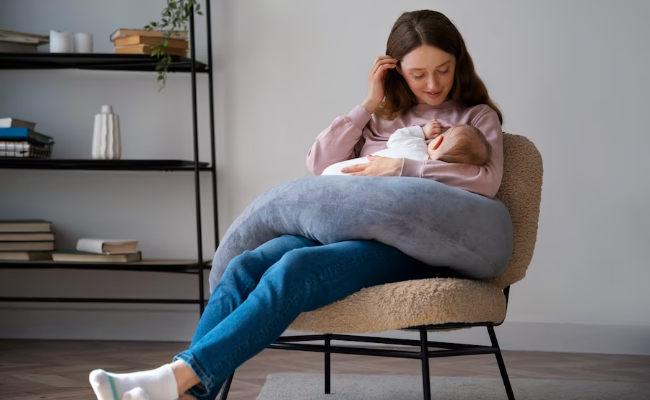 DRUG INTERACTION
Pregnant & Breastfeeding: Better to avoid during Pregnant and breastfeeding stage.
Stomach ulcers: +Patients having stomach ulcers should take this under doctor's supervision.
Auto-immune disease:Patients having multiple sclerosis (MS), lupus, rheumatoid arthritis (RA) should not take.
Surgery:Stop taking it at least 2 weeks before and after surgery.
Thyroid Disorder: Hyperthyroid patients should avoid taking it.
REFERENCES
More P, Pai K. In vitro NADH-oxidase, NADPH-oxidase and myeloperoxidase activity of macrophages after Tinospora cordifolia (Guduchi) treatment. Immunopharmacol Immunotoxicol, 2012; 34:368–72.
Davis L, Kuttan G. Effect of Withania Somnifera on cytokine production in normal and cyclophosphamide treated mice. Immunopharmacol Immunotoxicol, 1999; 21(4):695-703.
Liu Z, Ying Y. The Inhibitory Effect of Curcumin on Virus-Induced Cytokine Storm and Its Potential Use in the Associated Severe Pneumonia. Front Cell Dev Biol., 2020; 8:479.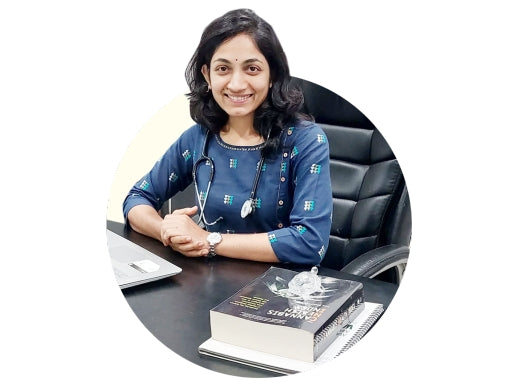 YOUR JOURNEY TO WELL-BEING STARTS HERE
Consultation and Treatment from Certified Ayurvedic Experts
Book An Appointment
D
Diondus Lourdhuraj
(Chennai, IN)
Best immunity booster
My son getting cold and cough very often..once a week he suffered from cold and cough. After using immusync and guduchi, he has totally free from that.